855-862-7874 (855-TO-CRUSH)
Local: 585-348-9349
Mailing Address:
10 E Main St. Suite 202
Victor, NY 14564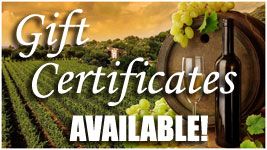 Book Gift Certificates Online!
For An Exact Denomination…
If you need one gift certificate of a certain denomination, please go to the Single Reservation page instead and and follow the added steps below.
For Two Or More People…
For Gift Certificates of groups of two or more, please go to the Book Now page and follow the added steps below.
Order Instruction Steps…
Choose today's date as the Date of Tour.
Choose the number of people/gift certificates.
In the Select a Tour drop down box, scroll down to choose the gift certificate denomination/per person of your choice.  (If you know the tour your guests would like to take, you may choose the exact tour.)
In the pickup location box, type "Gift Certificate".
We will send you a gift certificate via email to give to your guests.
If you have any questions, please call us.
Gift Certificates are valid for one year from time of purchase.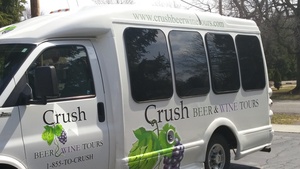 Our Policy
Crush Wine and Beer Tours' policy is no consumption of alcohol on our vehicles. Celebratory champagne toasts are allowed. Opportunities to purchase and enjoy spirits will be available inside our tour stops.